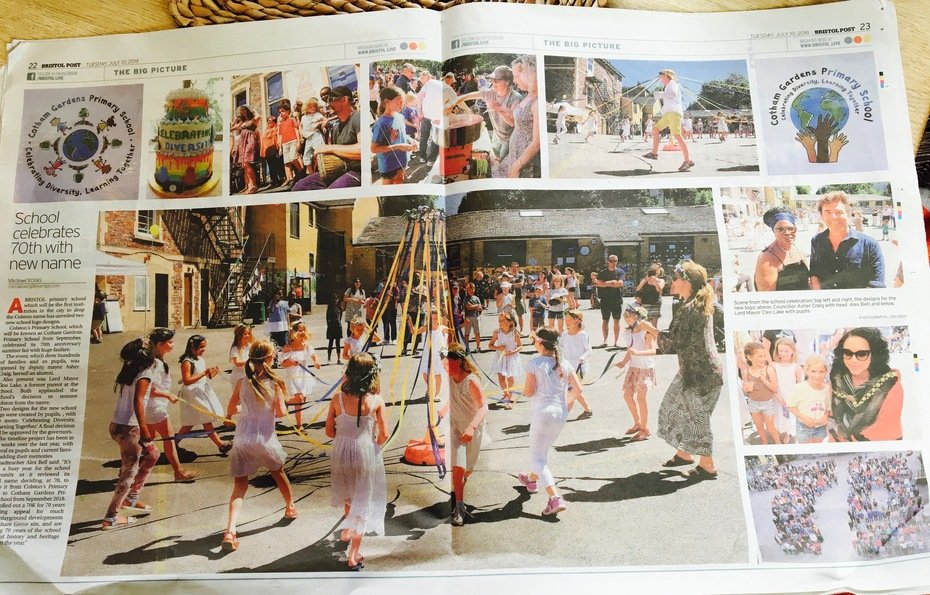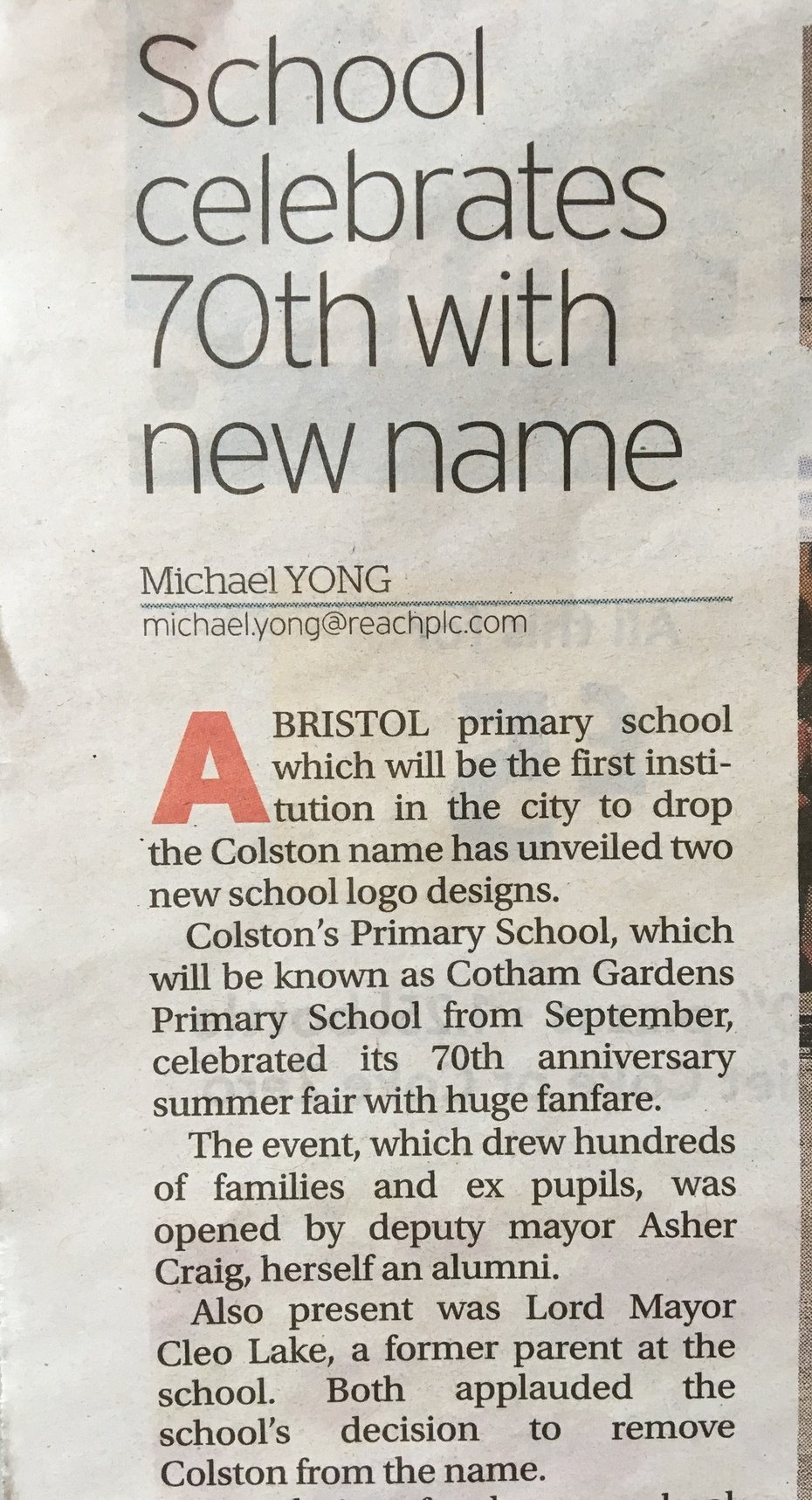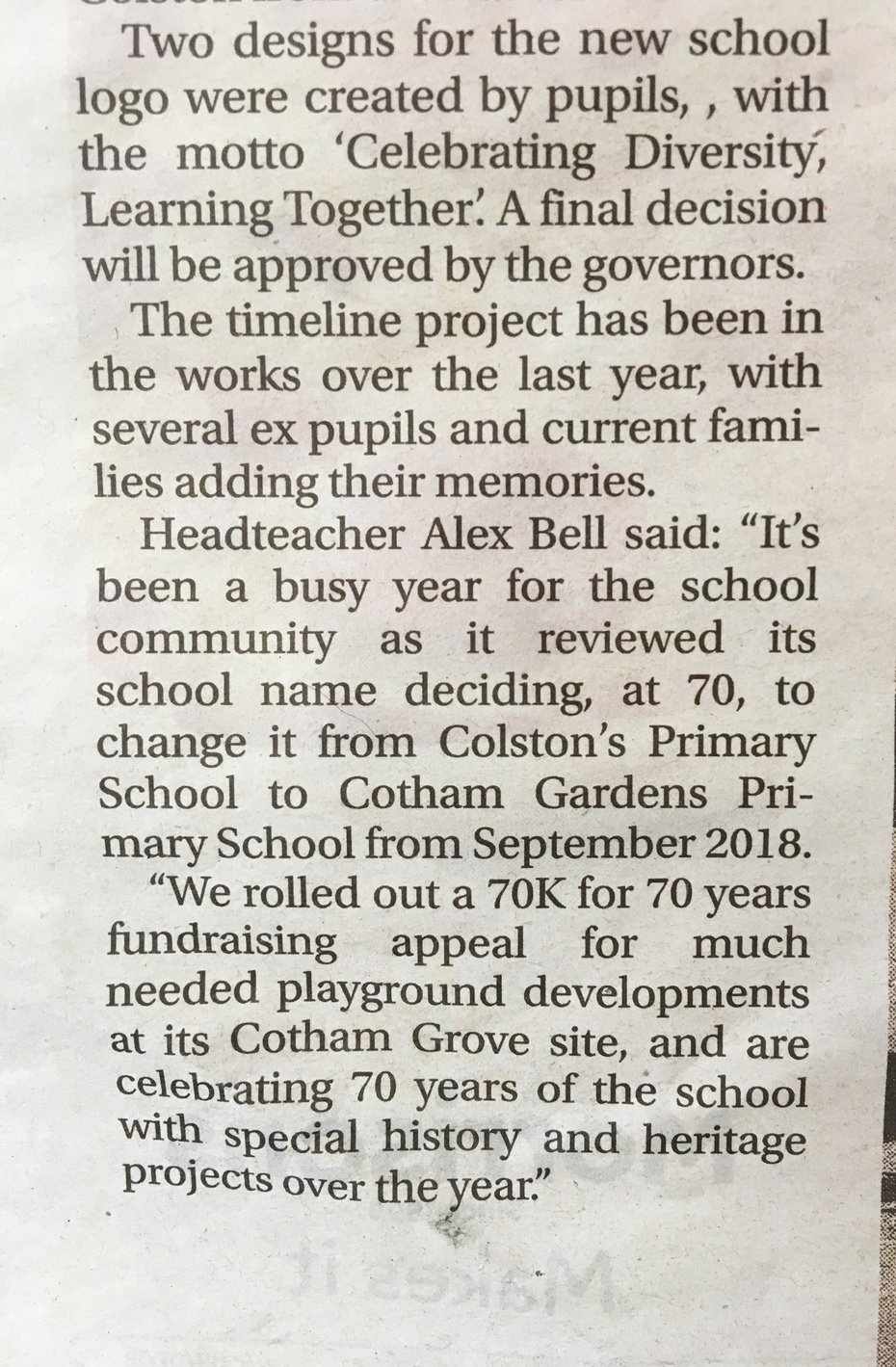 The Bristol Post, Tuesday July 10th 2018
Centre page spread of our 70th anniversary fair which took place on a very sunny Saturday June 30th - the colourful climax of our anniversary festival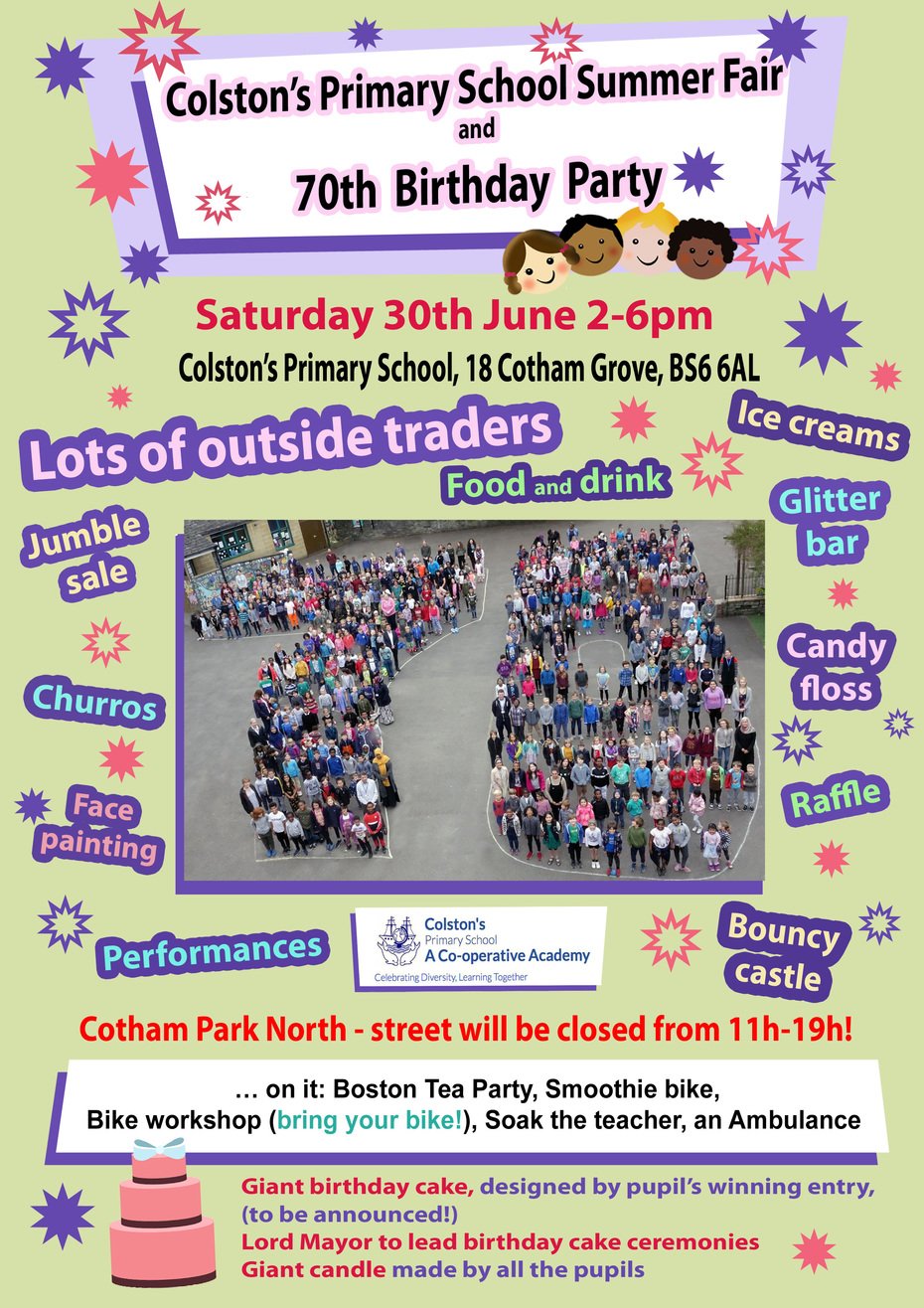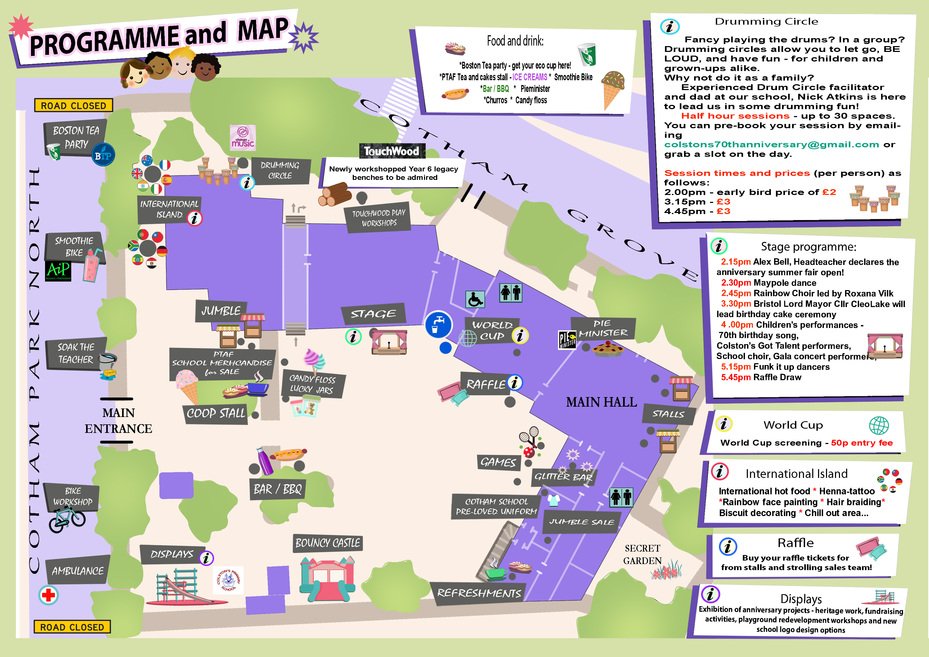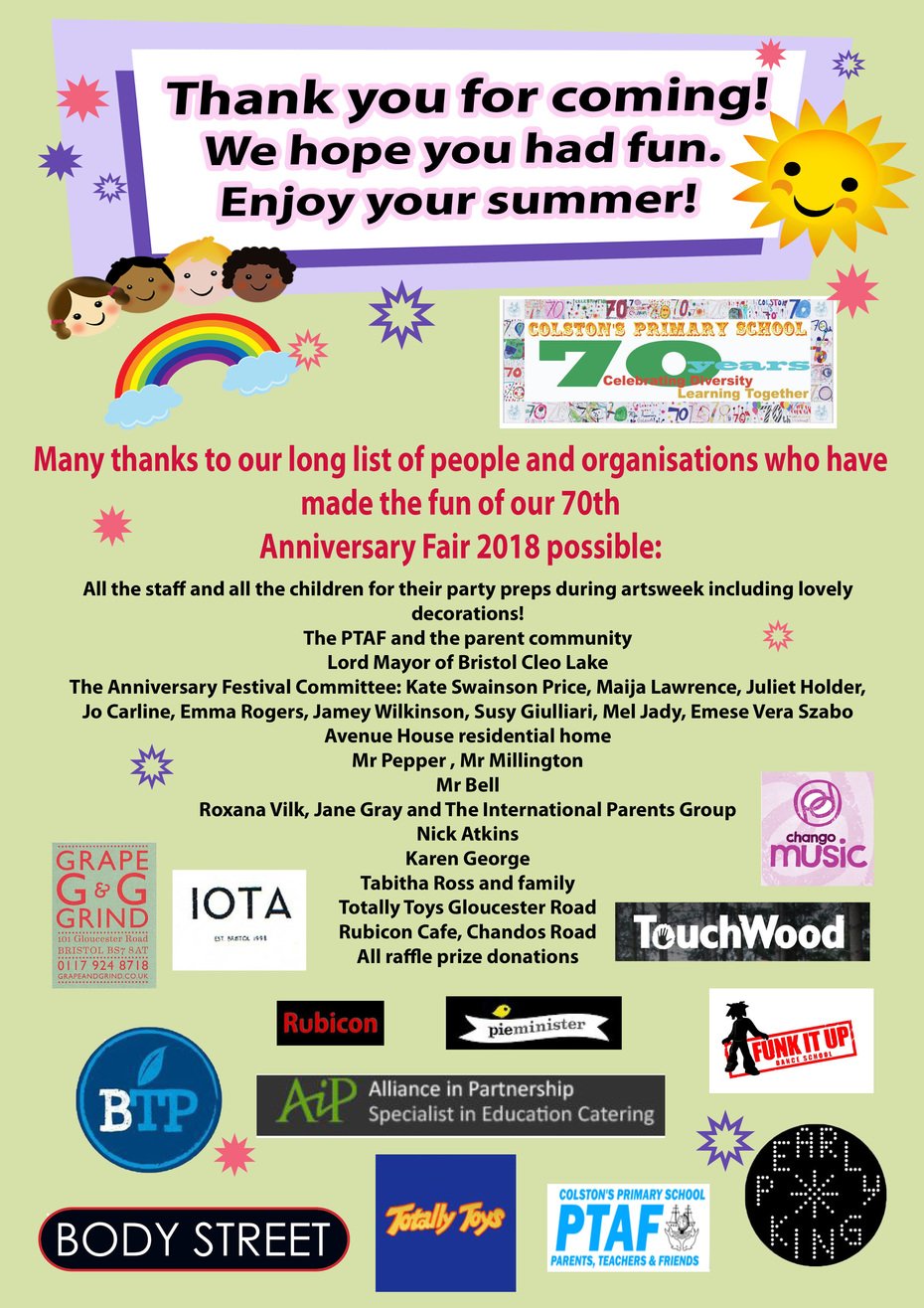 Beautiful banner courtesy of children's designs and Karen George, school librarian and artist's magical skills
1947/18 to 2017/18
Anniversary Playground Fundraising Appeal
Support our Team Colston's Bristol 10K Team who ran the race to raise funds on Sunday 13th May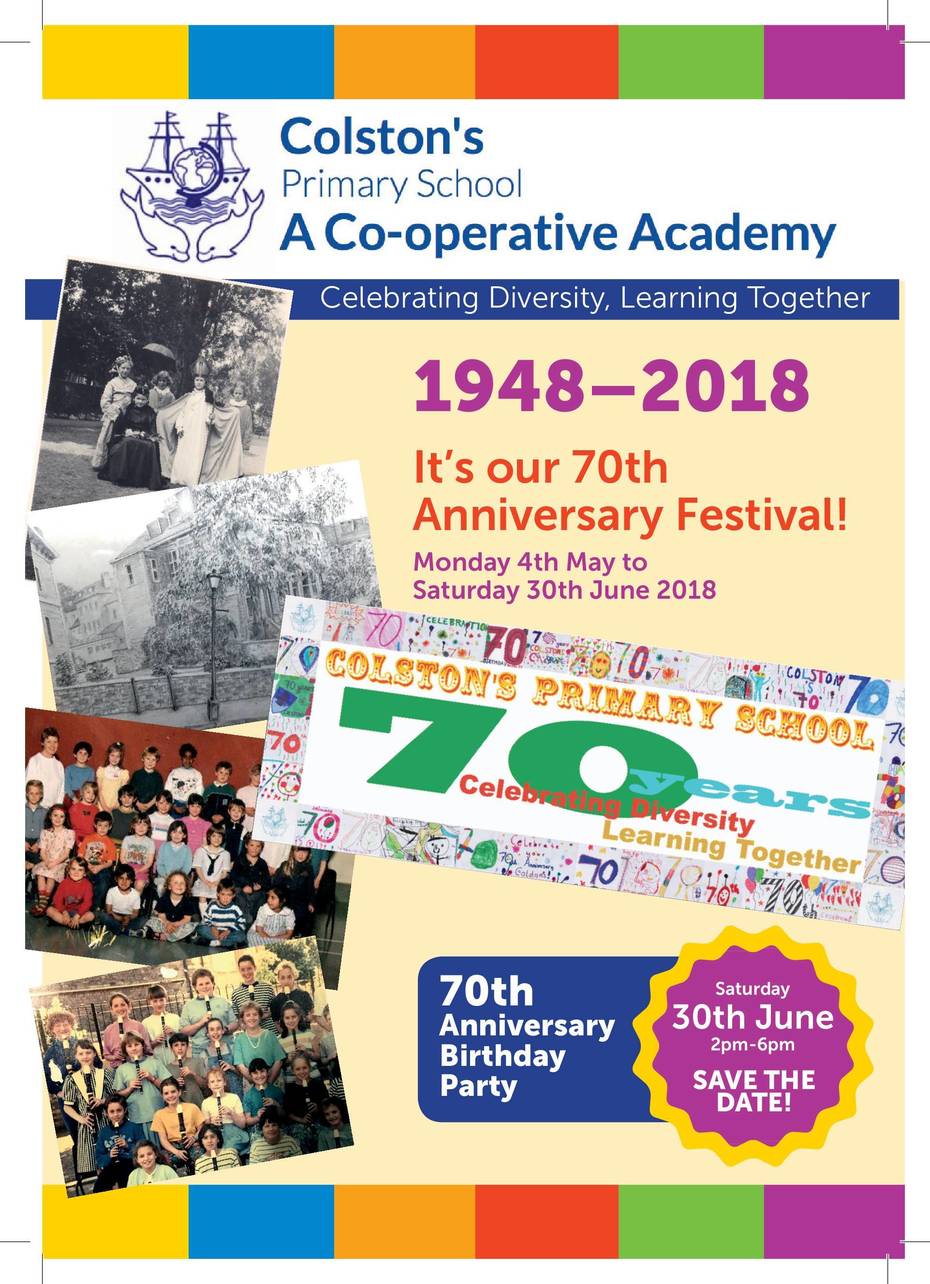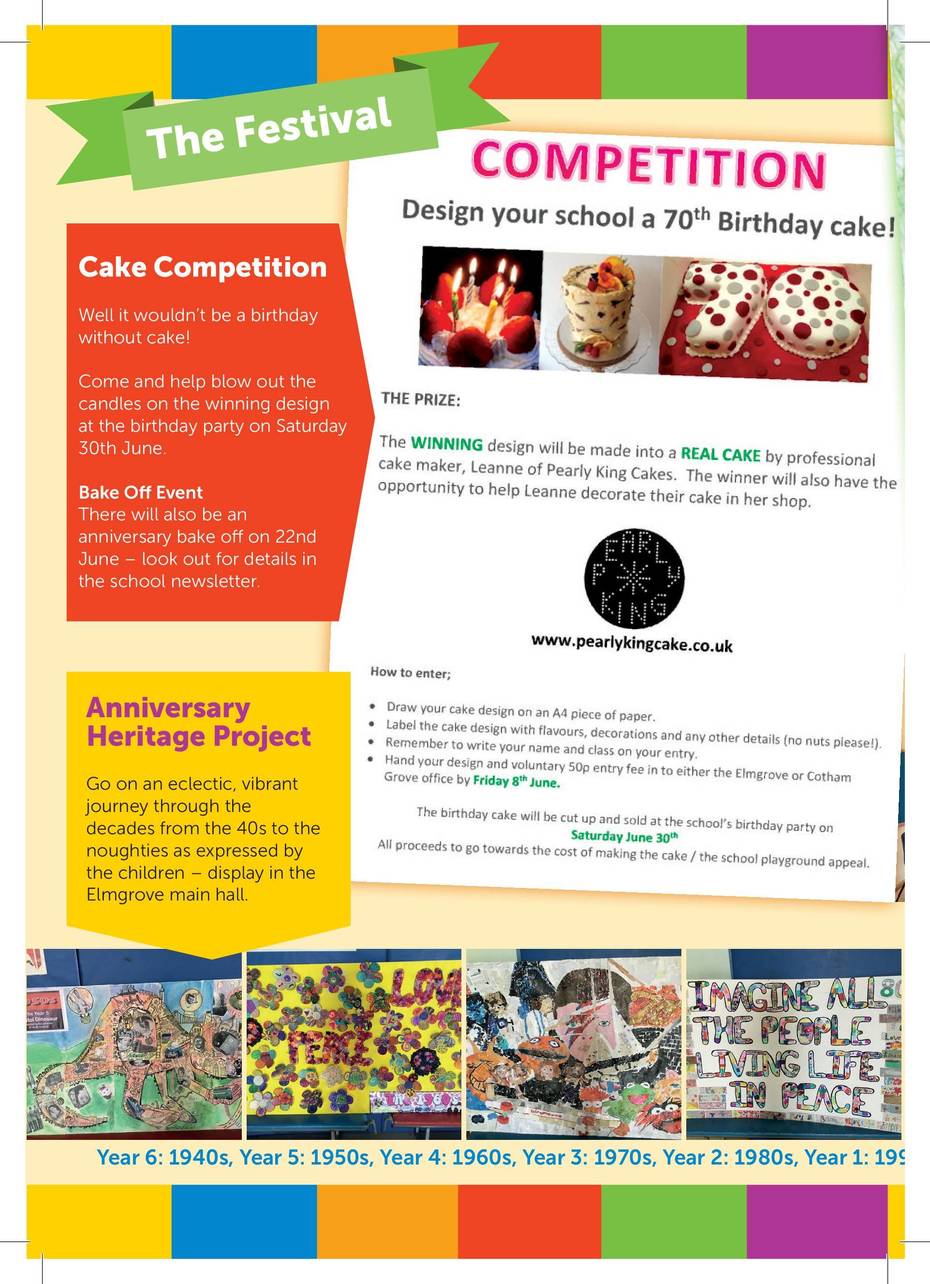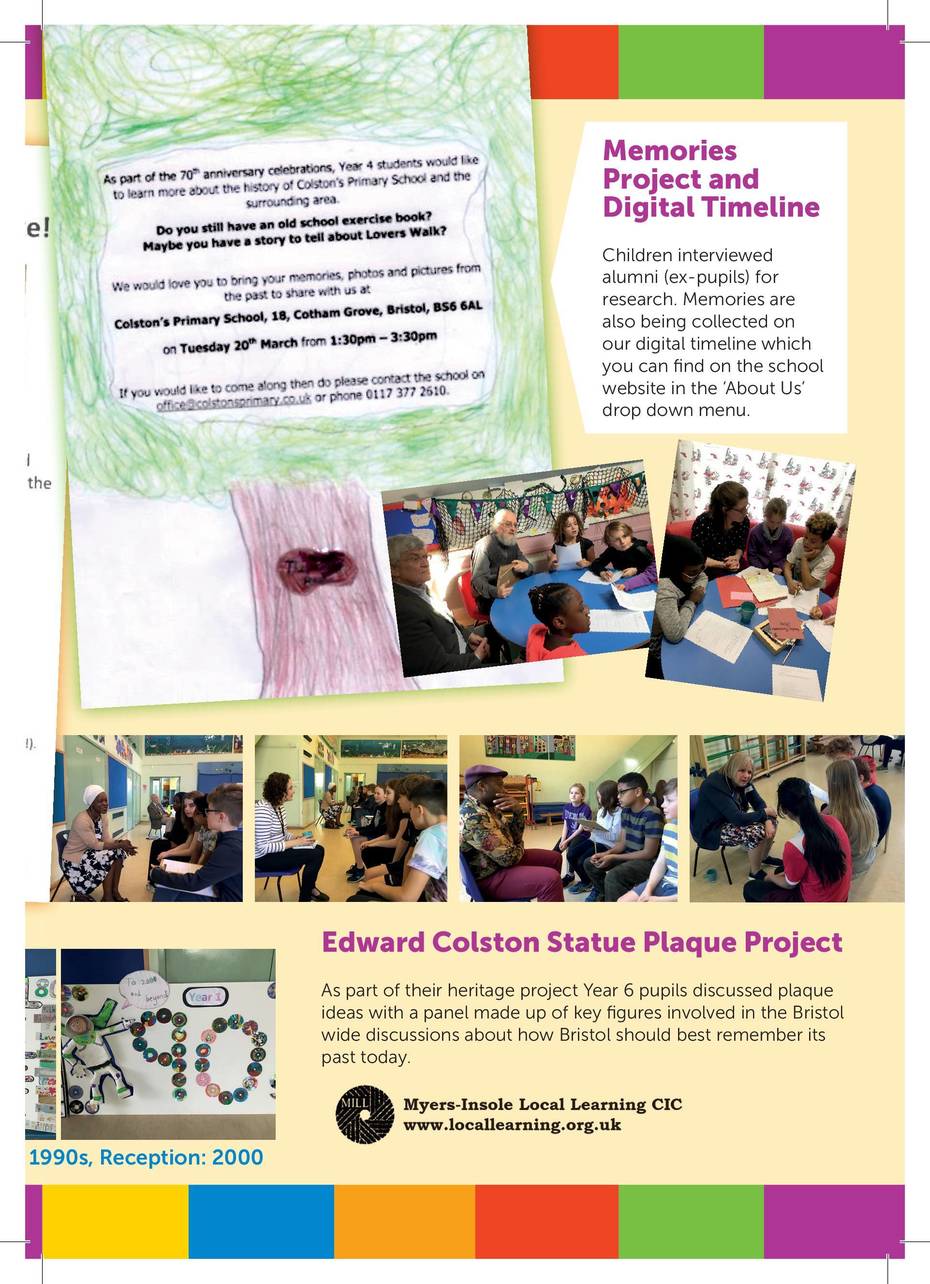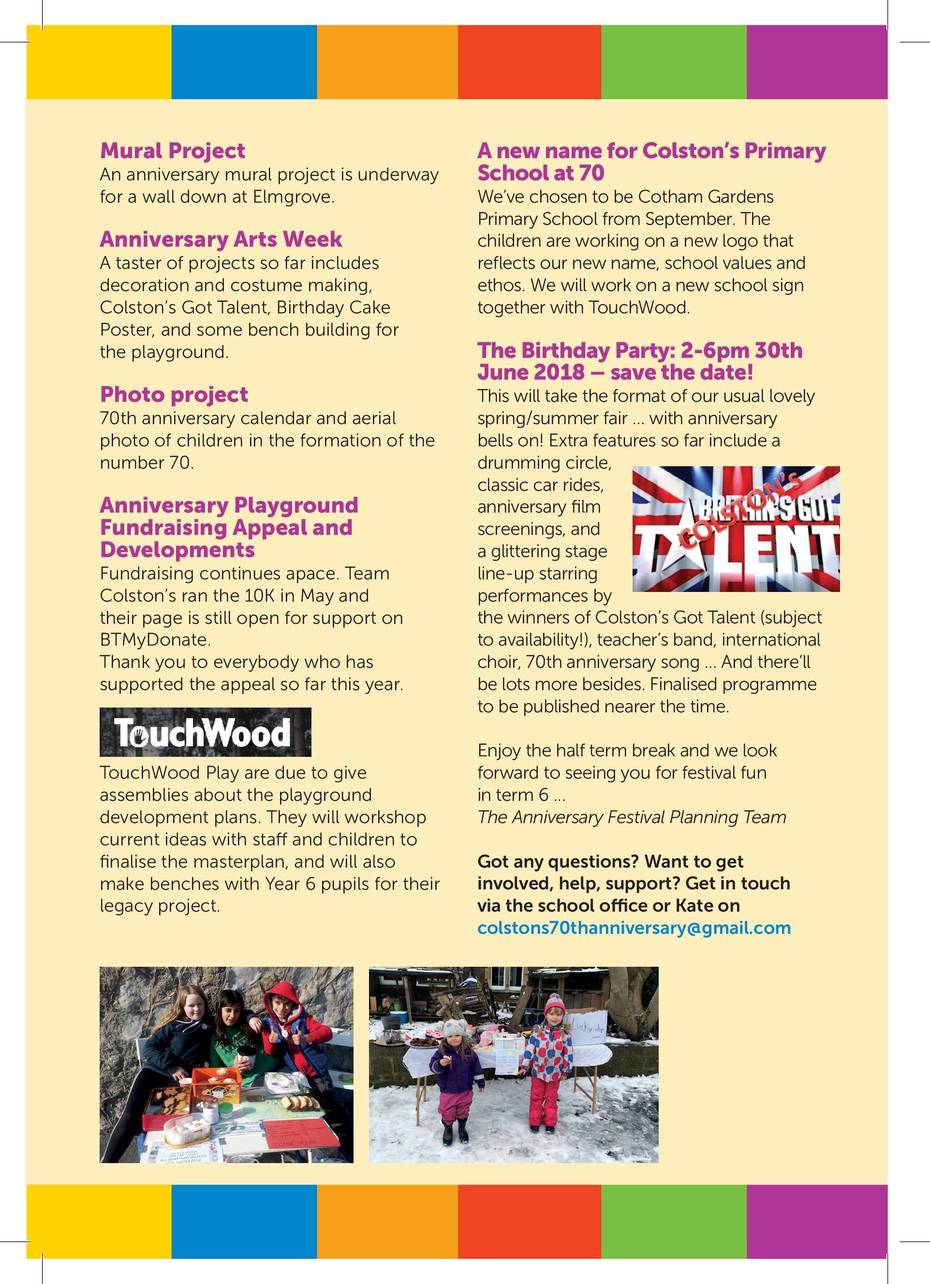 Want to be involved?
Please be in touch via any of the following contacts:
colstons70thanniversary@gmail.com - takes you to Kate Swainson Price, governor lead on anniversary matters
cooperative@cothamgardens.co.uk - takes you to Alex Jarman, staff co-op lead
cooperative.parent.reps@gmail.com - takes you to the co-op parent reps
office@cothamgardens.co.uk - takes you to the office staff who can signpost you to the right person
Office Tel: 0117 377 2610 - talk to someone in the office who will point you in the right direction
Term 6 2018
Anniversary Festival and Summer Fair and Birthday Party!
£40K in the playground pot
Touchwood Play start workshopping playground designs with pupils and make legacy benches with Year 6 pupil
New school logo design options unveiled having been worked up from ideas generated by the pupils
Term 5 2018
The staff team gear up to run the Bristol 10K in aid of the playground appeal
New school name voted through - we will be Cotham Gardens Primary School as of September 2018
Children's logo design project launched
Anniversary festival and party planning begins proper
Term 4 2018
Celebration of having smashed our £5,000 match fund target raising over £7,000 in the end all of which was matched by our generous match fund donors.
Showcasing of the heritage project work by the children - Reports from the successful alumni events and display of fantastic boards reflecting of life through the decades
Year 6 pupils begin their research into helping design a plaque for our times for Colston's statue
The Digital Timeline flourishes
Consultations continue over school name brief and shortlist
Phase One Playground Brief - Year 6 Area - put out to tender
Term 3 2018 - a couple of anniversary launches
Anniversary Playground Appeal launches with £18K already raised towards the £70K goal, and a time limited Match Funding Challenge to double all appeal funds raised up to £5,000 til Easter 2018
Alumni Memories Project launches to feed into the timeline project children are working on to explore the 70 year history and heritage of the school. This will result in lots of learning, a timeline exhibit around the walls of the school and a digital version too.
Planning begins for the Anniversary Festival
Term 2 2017 - concrete projects establish ...
Anniversary Co-op Working Group set up made up of children, staff, parents and local community members
Anniversary Timeline project set up including Alumni Memories project and history and heritage project
Anniversary Festival Committee set up
Anniversary fundraising Appeal launched January 2018
Term 1 2017 - gathering ideas ...
1947/48 - 2017/18
How can you be involved in the creation of a year of celebratory activities?
It would be so lovely to populate our school calendar with a plethara of anniversary events and activities in celebration of the school's birthday year, and to hopefully leave some permanent anniversary legacies around the school - how about a time capsule?
How can parents and carers be involved? Anything goes - Staff are having a think about how they can contribute to marking this milestone ... and if you have an idea you'd like to pursue, small or large, please do be in touch.
Timeline Exhibition
Wouldn't it be great to create a timeline illustrating our history over the last 70 years. Key events and kids research could populate the line as well as memories from ex-pupils and staff ... it would be a great way of reconnecting with our alumni.
Would you be interested in getting involved with this? Do you have any of the following skills? Design, website, historical research, curatorial?
Do you know alumni we can be in touch with? Are you yourself alumni?
Anniversary arts projects - music, art, film, dance, Science projects - could we hook up with We the Curious?, Sports projects - anniversary olympics? Would you like to be involved in projects under any of these umbrella areas? Do you have any ideas of your own?
Decorating the school - bunting, decorations, anniversary posters ... a banner. Anybody up for contributing in this way - children and parents alike?
70th Anniversary Fundraising Appeal - Surely we should try and reward ourselves with some birthday funds for the children ... An appeal with a 'case for support' linked directly to our school development plan to improve outcomes for our children is being drawn up with the aim of launching in Term 2.
We will be appealing to individuals, trusts and foundations, and local businesses for support. Is there anybody out there who is interested in being involved at at this stage? Do you have crowdfunding experience (Playground development so ripe for this)? If so, please contact Kate Swainson Price on
chair.governors@cothamgardens.co.uk
or via the office on
office@cothamgardens.co.uk
PTAF fundraising events - do you have any brilliant ideas for anniversary fundraising events or activities? The PTAF will be running its usual calendar of events but this year it would be great to have something extra special. Please contact the PTAF Chair, Maija Lawrence, or Vice Chair, Juliet Holder, with your ideas, via the office on office@cothamgardens.co.uk
If you are interested in being involved in any of the above please contact the office on office@cothamgardens.co.uk in the first instance. And sooner rather than later. If we are to get projects off the ground we need to get going ...
We look forward to hearing from you. All ideas welcome. A couple of key projects will probably be decided upon (Timeline and a big birthday party of sorts - perhaps an anniversary festival in the summer) and smaller projects will feed into these. But keep ideas coming .... If you have something you'd like to do to help mark the school's anniversary don't be backwards in coming forwards ... your school needs you!
Look out for co-op meetings where there will be opportunities to find out more, and this page will be updated with anniversary news as things evolve ...
Co-op Forum
(We'll need to form a 70th anniversary committee made up of pupils, staff, parents and local wider community reps so if you are interested in that do be in touch too ...)