Final consultation Meeting Monday 16th October, 2.40pm, Elmgrove Site, Spare Classroom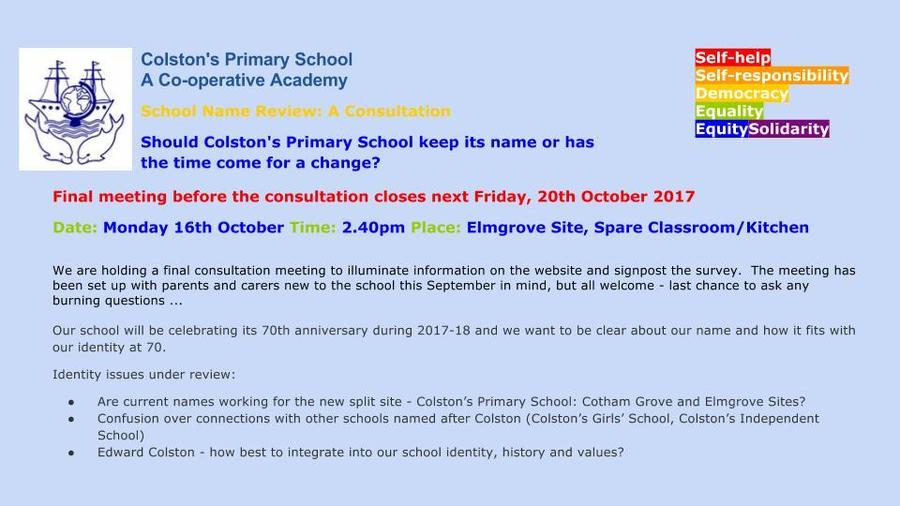 September 2017
We are now into phase two of the name consultation which is more informal in approach. Rather than publish a schedule of events different groups continue to be consulted at opportune meetings within school and the wider local community.
A staff meeting has taken place, co-op reps are consulting parents at the Tuesday coffee mornings, governors and co-op reps flagged the consultation to at the recent new parents meeting; and there are plans to consult the wider community, including a visit to the old people's home opposite the school and communication about the consultation with the Bishopston, Cotham and Redland Neighbourhood Partnership.
The survey is live until the 21st October. A final decision will be made by governors in November, final date TBC.
If you missed the events last term and feel you have not had the chance to ask questions and / or discuss anything relating to your thoughts about this issue, please do be in touch with the school office on office@colstonsprimary.co.uk, and we will arrange a meeting for you.
In the meantime, there is plenty of information on these consultation pages to help inform your opinion, if it is not already made up.
Many thanks for your input. It will help governors to make a decision informed by the school community.
Initial consultation meetings took place when the consultation launched in June 2017, as outlined below.
These were successful events in terms of clarifying the process, gleaning more helpful information and gathering the views of those who attended. Attendance was generally low. You can find out how these events went and hear clips of speakers who attended here.
Consultation Programme of Meetings June 2016
What?

Where?

When?

Who?

Parent Consultation - with a particular focus on our international community

Elmgrove

Tuesday 20th June 2017 at 9am (coffee morning)

International community

Notes:

Co-op reps attended and gave an overview of the consultation and some discussions began

Staff Consultation Meeting

Cotham Grove Library

Tuesday 20th June 2017 at 4pm

Staff

Notes:

No show - staff had recently attended a meeting with co-op staff lead Alex Jarman so no real need for meeting in the end

Parents / staff / wider community - all welcome

Special Guest: Dr. Madge Dresser F.R.Hist.S, F.R.S.A specialist in the history of slavery

Cotham Grove Meeting Room

Wednesday 21st June 2017 at 6.30pm

All

Notes:

Outline of the process given

Very informative address about Colston the man and his involvement in slavery by Dr Madge Dresser

Interesting discussions about the ins and outs of the name Colston as the brand name for our school

Thanks expressed by an attendee for holding the consultation

Parent consultation - with a particular focus on our international community

Elmgrove

Tuesday 27th June 2017 at 9am (international community coffee morning)

International community

Notes:

Parenting course going on so a further session on name consultation being planned by co-op reps

Staff Consultation Meeting

Elmgrove

Tuesday 27th June 2017 at 4pm

Staff - cancelled

Notes:

No-one available from govs or co-op reps to host.

Apologies to those few members of staff who had been hoping to attend.

Staff are incredibly busy at the moment and we will be providing further opportunities for engagement - meanwhile the website pages are a good source of info and contemplation

Parents / staff / wider community - all welcome

Special guest: Sarah Robertson, Head of communications at Colston Hall

Elmgrove

Wednesday 28th June 2017 at 6.30pm

All

Process outlined and questions answered

Sarah Robertson gave interesting and informative account of Colston's Hall's journey in terms of their name

Some questions around managing wider interest in our consultation further to media coverage that day

This is an issue for our community and our school and the governors decision will be made in light of the views of our school community

Parents / staff / wider community - all welcome

Special guest: Sarah Robertson, Head of communications at Colston Hall

Cotham Grove

Thursday 29th June 2017 at 2.45pm

Process outlined and questions answered

Sarah Roberston gave the same account as the day before to a new audience

Views of attendees aired, heard and noted

Learning Support Assistants

Cotham Grove

Friday 30th June 2017 at 10am

LSAs

Notes:

Process outlined and radio broadcast aired to exemplify random range of views from pupils and parents/carers

Questions answered and an air of contemplation prevailed

One attendee noted how interesting it was to learn of the history of the school buildings and how that had further shaped her view

Pupils

Cotham Grove / Elmgrove

Thursday 13th July 2017 all day

All pupils - Wow! Day facilitated by Alex Jarman
The Co-op Forum reps are managing the consultation along with governors. They will be present at meetings to help facilitate discussions. They will also collate feedback from pupils, parents, staff and local wider community and prepare summary findings to present to governors as part of informing the final decision making in early November - final decision making timeline TBC.
Co-op Forum reps will also be able to advise on membership, current activities past, present and future and how you can be involved. Check out their website pages here.
There will be further consultation meetings after 30th June, so keep checking in.
The school name consultation survey went live on Monday 3rd July, to be completed and returned by Friday 21st October. This publication date was set to ensure everybody has had the opportunity to engage in the consultation process before coming to the view they submit. Further consultation events will be scheduled for September. Watch this space.
Contributors / guest speakers:
We are hoping to confirm a series of guest speakers over the duration of the consultation period, to speak from a variety of perspectives on the topic.
We kicked our guest series off on Wednesday June 21st when were lucky enough to welcome renowned historian Dr Madge Dresser, Academic expert (UWE) on Bristol and slavery, to our meeting. Dr Dresser gave us a fascinating account of Colston the man, his connections with slavery and also discussed ideas around names of buildings and statues in terms of memorialisation.
Sarah Robertson, Head of Communications and Special Projects at Colston Hall, came two meetings on 28th and 29th June. Colston Hall's Board of Trustees recently made the decision to change the hall's name when it re-opens in 2020. Sarah will share her experience of this with us.
We are in touch with the Merchant Venturers who are considering how they might be involved in our consultation.
Others are being approached including Stephen Williams, former Lib Dem MP and historian. If you know of anybody you think might be able to give us an interesting angle on the topic please do be in touch via governors@colstonsprimary.co.uk or cooperative@colstonsprimary.co.uk